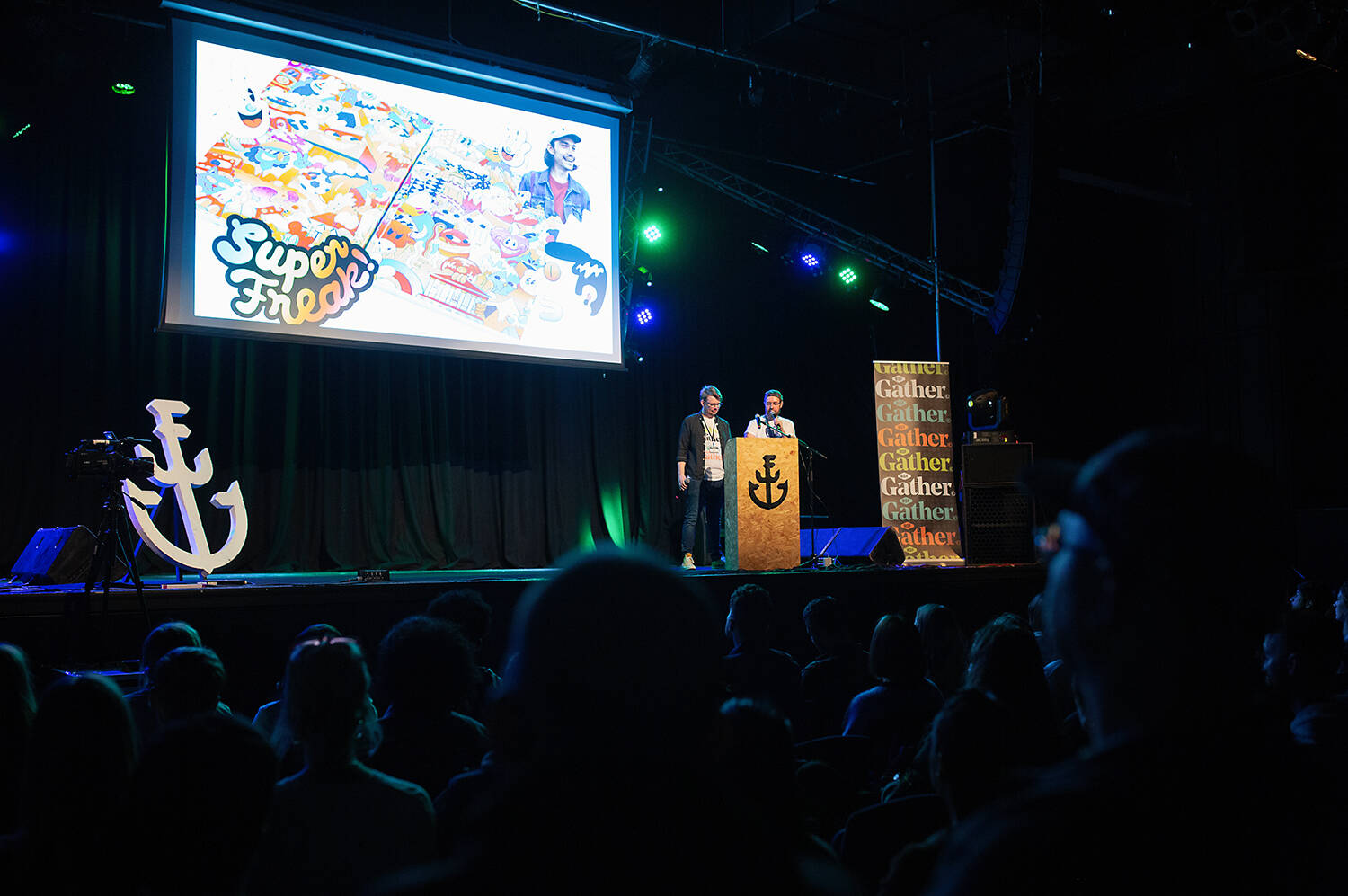 As well as some incredible talks from our four speakers, at our first in-person Gather event we announced a truck full of Birmingham Design news, from a new shop to the full list of 2022 festival speakers.

The new Birmingham Design Shop is now live!
After several years of selling BD/BDF merch, our online store is getting an upgrade. For the past few years, we've been wondering what a design shop in Birmingham could offer the community. A space to buy design books, stationery and work by local artists and designers.
Thanks to The Jointworks, that space is now a reality. When the coworking space opens in June we're proud to say a small corner of it will be a dedicated Birmingham Design retail space stocking books from Phaidon, Gestalten, Thames & Hudson and more. plus Field Notes by BDFF Aaron Draplin and other select items by the BD team.
The online store is now taking orders for delivery and come June you'll be able to click and collect from the Jewellery Quarter. This is just the beginning for the new shop and we're excited for it to grow over the next few years.

---


Birmingham Design Annual Survey 2022 launches this week
Heading into its third year we're delighted to announce the survey returning next week and will be supported by the wonderful folks at Beyond the Book.
The Birmingham Design Survey is our attempt to document the ever-changing design scene in the West Midlands, profiling diversity, seniority, gender and work placement across the industry in the Greater Birmingham area.
Keep an eye out for when this year's questions drop this week on our twitter account.
---

The launch of The Thomas Sheppard Internship
This announcement isn't one from us, but our friends at The Sterlingham Co.
Andrew Healey joined us on stage last night to announce The Thomas Sheppard internship, set up in 2021 following the sudden and unexpected passing of the talented photographer and member of our community Tom Sheppard.
Sonia, Tom's mum and Louise, Tom's partner would like to honour Tom's memory by giving other photographers the opportunity of space and time to develop their portfolio, post-education, to help them take their first steps towards employment or towards self-employment. The Sterlingham support this program through the continued use of the warehouse space in which Tom set up his studio.
You can find out more about the internship here.
---
The Birmingham Design Magazine is now available to buy
It's only been out a day and we've sold hundreds of copies already. If you couldn't make it last night you can now buy the Birmingham Design magazine online and have it shipped straight to you.
Featuring a gorgeous cover designed by Super Freak and choc-full of features on local creatives this is the perfect table read for home or work.
Head on over to the Birmingham Design Shop and order your copy(ies) now.
---
The full Birmingham Design Festival 2022 line-up
Our final announcement was the big one. Over 70 of the speakers who will be joining us for BDF in 2022, an incredible collection of local and international talent.
The full schedule will be released at the start of May, with tickets available shortly after.
You can see the full list of speakers here