WMCA launches West Midlands Design Charter
On Thursday the West Midlands Combined Authority launched the West Midlands Design Charter, a set of 12 principles intended to guide design initiatives across the region. Here's a round-up of the launch event and our thoughts on the initiative.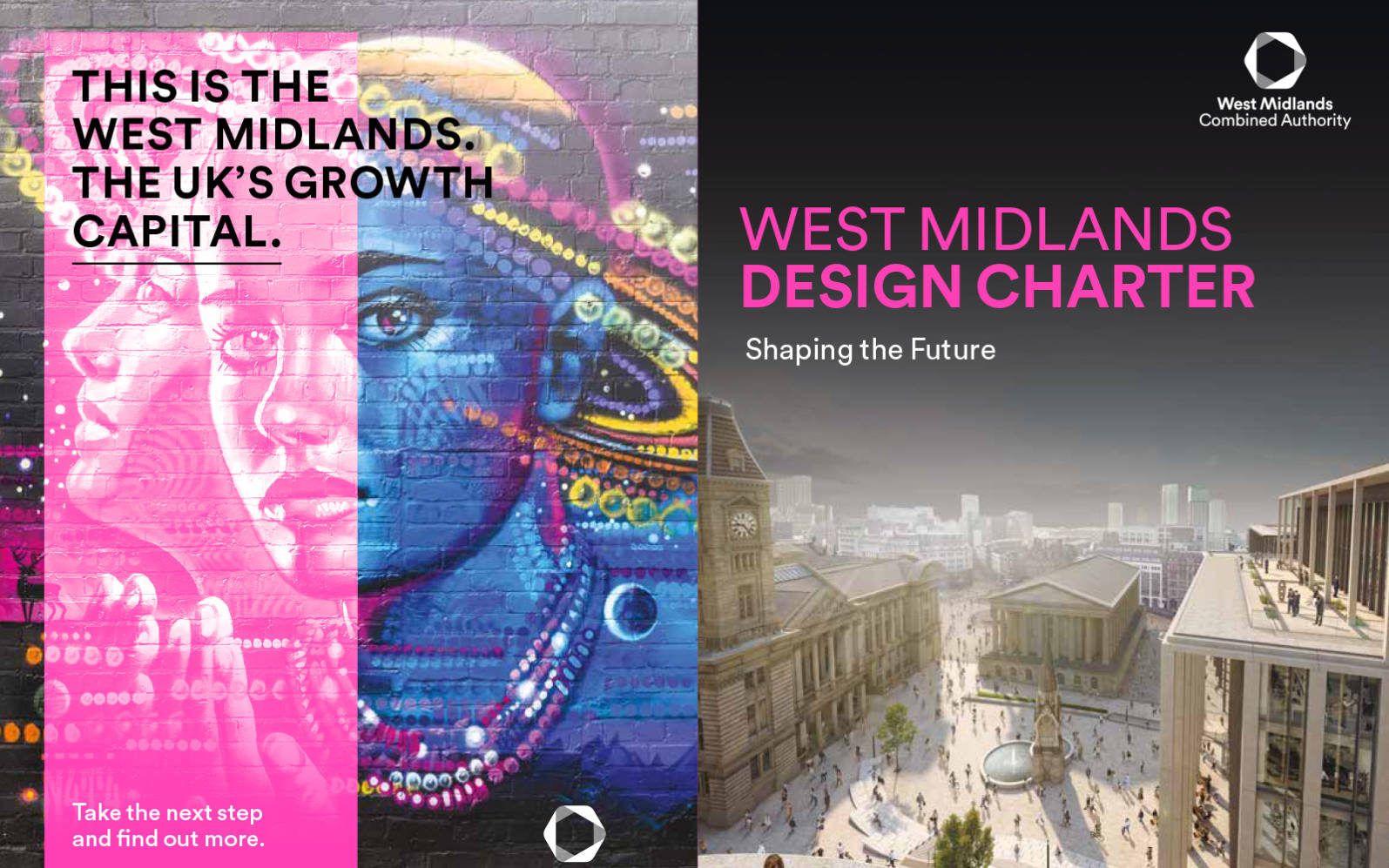 Last week, in front of a room of urban planners, architects, property developers and local government, West Midlands Mayor Andy Street and the team at WMCA delivered their vision for the future for design and planning across the region.
In a first of its kind, the West Midlands Design Charter will be adopted by the 18 local authorities that make up the WMCA and is intended to promote, inspire and encourage great design initiatives and quality place-making.
From a personal perspective, it was a great honour to be invited onto one of the panels that discussed plans for the region as part of the launch. The Birmingham Design team have spent the past couple of years looking to make positive connections with the local authorities and have been delighted with the early progress made with the WMCA. We believe it's incredibly important to break down the design silos in the city and encourage architects, urban planners, graphic designers, digital designers and more to work together. We believe this could help build a more cohesive vision for the city – through collaboration – and a shared passion for creating beautifully designed and considered places.

So what of the charter? The 12 principles (detailed below) are very much as you'd expect from a city looking to put forward a statement that covers the health & wellbeing, future-readiness and environmental challenges that face them. From my perspective whilst I believe the content to be excellent (though I am no urban planner) the more exciting fact is that it is being discussed and championed in the first place.
Assuming all 18 authorities make true to their word (and it is this very fact that these things live and die on) we're very excited about a cohesive vision for the future. It has often been a bugbear of ours how disconnected not just our city, but many cities can feel. Buildings looking alien to those around them, no sense of place, little care made to ensure the residents living and working in the area feel safe, supported and part of something bigger.
It's also our belief that Birmingham needs to get better at celebrating what it is good at and that it establishes a 'feel' for what it's like to visit the city. Aside from perhaps the Bullring, there are no (nationally/internationally) famous landmarks here. We don't have the reputation for graffiti, like Bristol, or a music scene like Manchester's. We have a rich history of industrial design and manufacturing; we should be proud of that fact and embrace it in a modern way. We're the 'City of 1000 trades' but at the moment that's not a fact an outsider would know.
This is why we were particularly excited by 'Principle 2: Local distinctiveness'. The 'spirit of place' is one that Digbeth has begun to promote with their brand identity created by dn&co and it's something that an iconic location like the Jewellery Quarter could surely capitalise upon.

We're also looking forward to more engagement, outlined in Principle 10. As mentioned at the start of the article, one of the goals of Birmingham Design is to encourage more networking and collaboration across the design industry in Birmingham. We've been doing this through meeting local agencies, hosting networking events and creating a focal point for this collaboration in Birmingham Design Festival. But ultimately for things to really change designers of all backgrounds need a seat at the table when the important conversations are taking place. We hope that this charter (and the actions stemming from it) will help broaden the conversation, bringing in different skills much earlier in the process of urban development.
Continued below.
The design charter
1. Character
Principle 1: Regional Ambition
Developers will be expected to produce unique, innovative proposals that are grounded in a sound understanding of the local context and acknowledge the diversity of the West Midlands' communities and geography.
Principle 2: Local Distinctiveness
New development should respond to the qualities that characterise the locality's 'spirit of place' for residents, businesses and visitors. Schemes should contribute to the creative and cultural identity of the local environment and benefit local communities.
2. Connectivity & mobility
Principle 3: Regional Network
New development must contribute to enhancing regional connectivity by integrating effectively to existing and planned transport networks,
thinking beyond both site and administrative boundaries.
Principle 4: Modal Shift
Proposals should demonstrate an understanding of the changing face of transport and movement patterns across the West Midlands; promoting walking, cycling and public transport use.
3. Future-readiness
Principle 5: Climate Resilience
Developments should incorporate climate adaptation measures that respond to the short and long term impacts of climate change and address the environmental impact of the proposal across its lifecycle.
Principle 6: Delivering Low Carbon Development
Development proposals should seek to reduce greenhouse gas emissions by making clear, specific commitments to carbon reduction. The potential for new schemes to meet zero net carbon should be considered from the outset.
Principle 7: Technological Resilience
New development should harness technological innovation from the outset, to deliver adaptable buildings that respond to the rapidly changing digital, communication and infrastructure requirements of our businesses
and communities.
4. Health & wellbeing
Principle 8: Building Active Communities
Development proposals should support healthy living environments and address health inequalities by providing access to nature and spaces for physical activity.
Principle 9: Promoting Wellbeing
New development should promote wellbeing and good mental health by fostering community, identifying opportunities to reduce social isolation and minimise loneliness.
5. Engagement & stewardship
Principle 10: Engagement
Consultation should reflect local social, economic and geographic diversity and enable key stakeholders to shape design solutions from an early stage.
Principle 11: Stewardship
Public spaces and facilities should be designed to encourage long term civic pride in local places. Developers must give early consideration to management and stewardship of places and put long term sustainable solutions in place.
6. Delivery
Principle 12: Securing Social Value
WMCA expects developers to promote social value throughout the development process and will seek to align all housing and regeneration investment decisions with its inclusive growth objectives through its Single Commissioning Framework.
It will be interesting to see exactly how far this design charter pushes local development. As Immy said, during the first panel of the day, the most exciting part of this is that it allows those with a vested interest to hold those responsible to account. We now have a stepped approach to all development happening in the region and if any of those twelve principles fall flat we can enquire why.
We're really encouraged by the work the WMCA is doing, and grateful to Louise Wyman (Director Design & Development, WMCA) for involving us in the launch. As Andy Street said, this is "the West Midlands planting their flag in the ground for how things should be done". We hope the collaboration and forward-thinking continues.
Photography by Thom Bartley.